Anyone can sail in the Med. We did!!
It all started during a visit to the Caravan & Boat Show at the NEC Birmingham on a cold Tuesday in February 2003. After browsing through the caravans and admiring the sparkling new white yachts, we came across the stand for 'Sailing Holidays' and spotted a special offer of two weeks holiday, flotilla sailing in Greece on a 27' Jaguar yacht. We had never sailed a yacht before, although in my younger days I was fairly proficient at windsurfing. I was therefore pleasantly surprised when the holiday rep told us that anyone who enjoys outdoor activities would have little difficulty learning to sail on flotilla in the Ionian Sea.
A flotilla holiday comprises of a small group of yachts sailing essentially in the same direction, but independently between pre-arranged destinations, with a lead yacht and crew on hand to provide support, daily briefings, and assistance in mooring at each new destination. Distances between destinations can be from 5 miles to 20 miles each day with the opportunity to stop off and drop anchor in any secluded bay for lunch and a spot of swimming. A 27' Jaguar is quite an old yacht, being very robust and sea worthy, fitted out with modern equipment and a 17hp diesel engine. Although designed to accommodate five (intimately), it is ideal for couples.
Denise, my other half, booked the holiday for early May and I promptly determined to start a routine of diet and exercise to lose a few pounds and get reasonably fit before our adventure. I also bought the book 'The Complete Day Skipper' to read all about the nautical terms of sheets, heads, galleys and bowlines etc.
Three months later we arrived at Plataria on the mainland of Greece. Along with 11 other couples, full of excitement and a little apprehension, we were met by the lead crew and shown to our yachts, all neatly lined up along the jetty. Denise and I boarded 'Tilos' our home for the next two weeks. After a sound sleep, thanks to a couple of cool beers that evening, and the gentle sway of the boat, next morning we all congregated as pre-arranged at a quayside taverna for introductions and our first brief of the holiday. The brief included a thorough introduction to the yachts, what ropes did what, how to start the engine, use the heads (toilet) at sea, berthing and anchoring techniques etc. Then two hours later, one by one, we all departed for Petriti on Corfu, some 16 miles across the Ionian Sea, (gulp).
I gingerly motored Tilos out of the harbour into the bay, and after an hour or so had enough confidence to cut the engine and experiment with the sails. Whey, hey, a slight zephyr carried us forward at a speed of about 1 knot (that's marginally quicker than a snail pace, but fun all the same). The wind soon died away and we had to start the engine again otherwise we would not make Petriti that evening. Some five hours later, as we motored into a small harbour on Corfu, where were the rest of the flotilla? Surely we weren't the first to arrive? Then it slowly dawned that we were in the wrong harbour. Oops…the rest of the flotilla were four miles away in Petriti. Later in the holiday we discovered that most of the other couples in the flotilla had their own personal hand held GPS's to navigate by. We didn't. However, we would not make that mistake again and endeavoured to ensure that we studied the chart more thoroughly in future. GPS, by the way, is a global
positioning system using geo stationary satellites, introduced by the Americans for electronic navigation. Anyone can buy a simple handheld GPS receiver for about £130 to use this system.
The next few days were blissful, sailing under the Mediterranean sun, cooled by the breeze, swimming in secluded anchorages, and evenings socialising with other groups from the flotilla in some local taverna. We visited Petriti, Gouvia, Stefanos, Corfu Town, Sayiadha and Mourtos during that first week.
On the first day of the second week, we sailed from Mourtos on the mainland, to Lakka on the island of Paxos, some 17 miles away. We started motoring in calm weather, and half way across, the wind picked up nicely to give perfect sailing conditions. However, the wind continued to strengthen, the sky clouded over and it started to rain. Conditions got considerably worse with choppy waves. Cold and wet, several hours later, we eventually reached the sheltered bay leading into Lakka harbour. I asked Denise if she was worried during the crossing, but she said "No.. not really.. I knew you were in control." Little did she know, that I was terrified.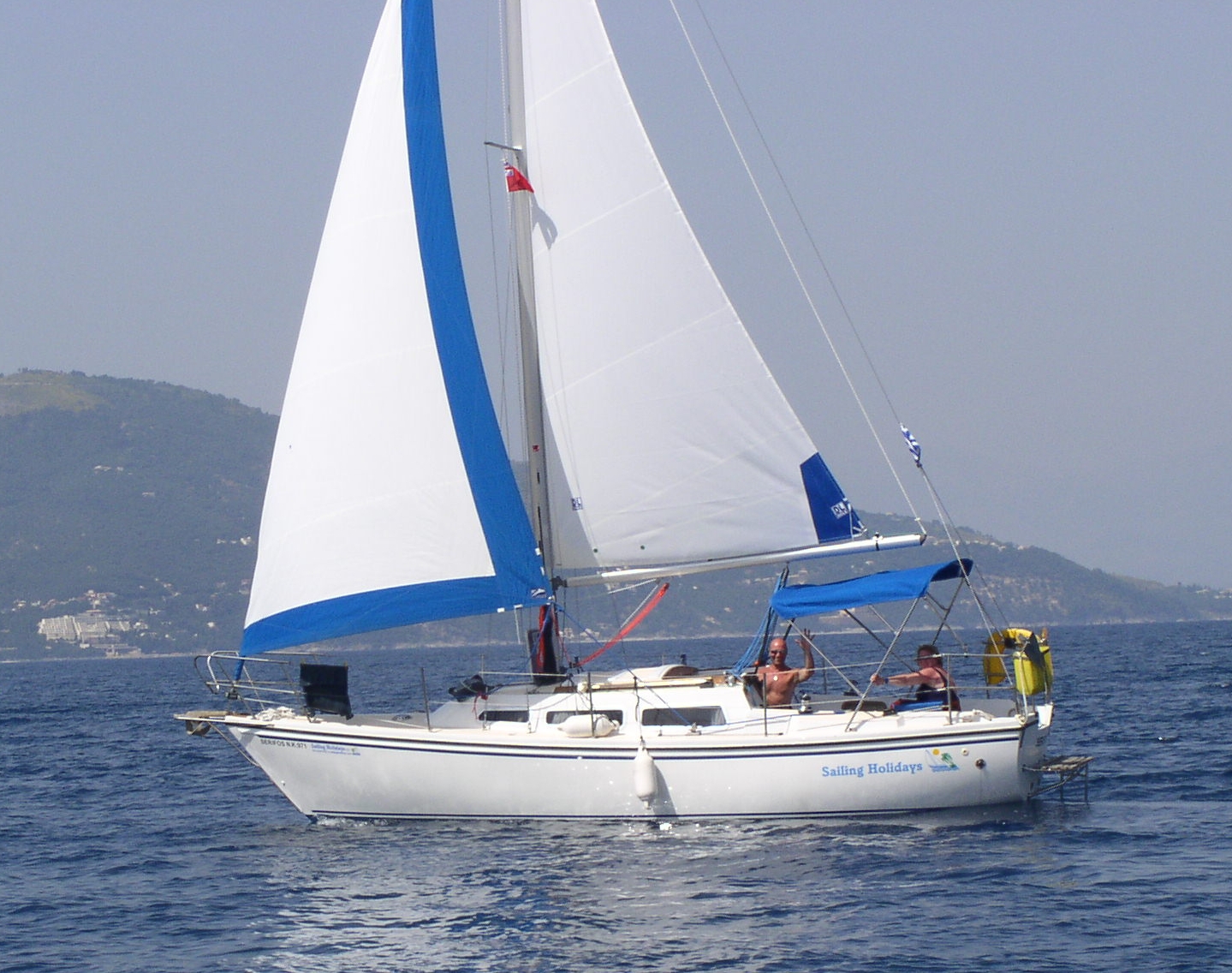 Next day, the good weather returned and we spent three days sailing around Paxos, berthing at night in Gaios and Mongonisi before returning to the mainland at Two Rocks Bay. Swimming ashore that evening, the lead crew had set up a beach barbeque for the flotilla.
The final three days were spent sailing to Parga and finally returning to base at Plataria having covered a total distance of some 168 miles. Throughout the holiday, we made several friends and enjoyed friendly rivalry with punch party competitions and racing our yachts between various destinations. Denise and I agreed that this had been one of the best holidays we had ever had, even rivalling our honeymoon some 35 years earlier.
Well and truly bitten by the bug of sailing, later that year I enrolled at our local technical college in Worcester for evening classes in order to gain the Royal Yachting Association 'Day Skipper' theory qualification. This six month shore based course covers the basics of regulations at sea, navigation, tides, meteorology, emergency situations etc. The course is quite relaxed and informal, initially concentrating on the fun aspects of sailing. The first evening was spent being tied up in knots, all fingers and thumbs, as we tied bowlines, clove hitches, figures of eight, and trying on various life jackets. The more serious stuff such as understanding the effects of the tide and weather, magnetic variation, planning passages and sending mayday messages came later. Anyone who puts in a little bit of effort and concentration is almost guaranteed to pass the two written exams.
In the summer of 2004 and equipped with my shore-based certificate, I decided it was time to attempt the Day Skipper practical course. After surfing the internet for RYA training centres, I came across Pembrokeshire Cruising sailing school based at Neyland, and enrolled for a five day course living aboard their 36' Jeanneau sailing yacht.
Along with three other budding skippers, Roland our tutor taught us the basics of boat handling in the marina with the tide at full flow, effects of prop walk, and picking up buoys anchored to estuary moorings. Over the next few days each in turn took charge as skipper in planning and executing various passages in the Milford Haven seaway, out into the Irish sea, past the island of Skomer, and through the treacherous Jack Sound to Solva. At Solva we anchored for the night in a small bay since the shallow harbour at low tide would not take our 36 footer. That evening, we five hefty men motored ashore in the inflatable dinghy to sample fine beers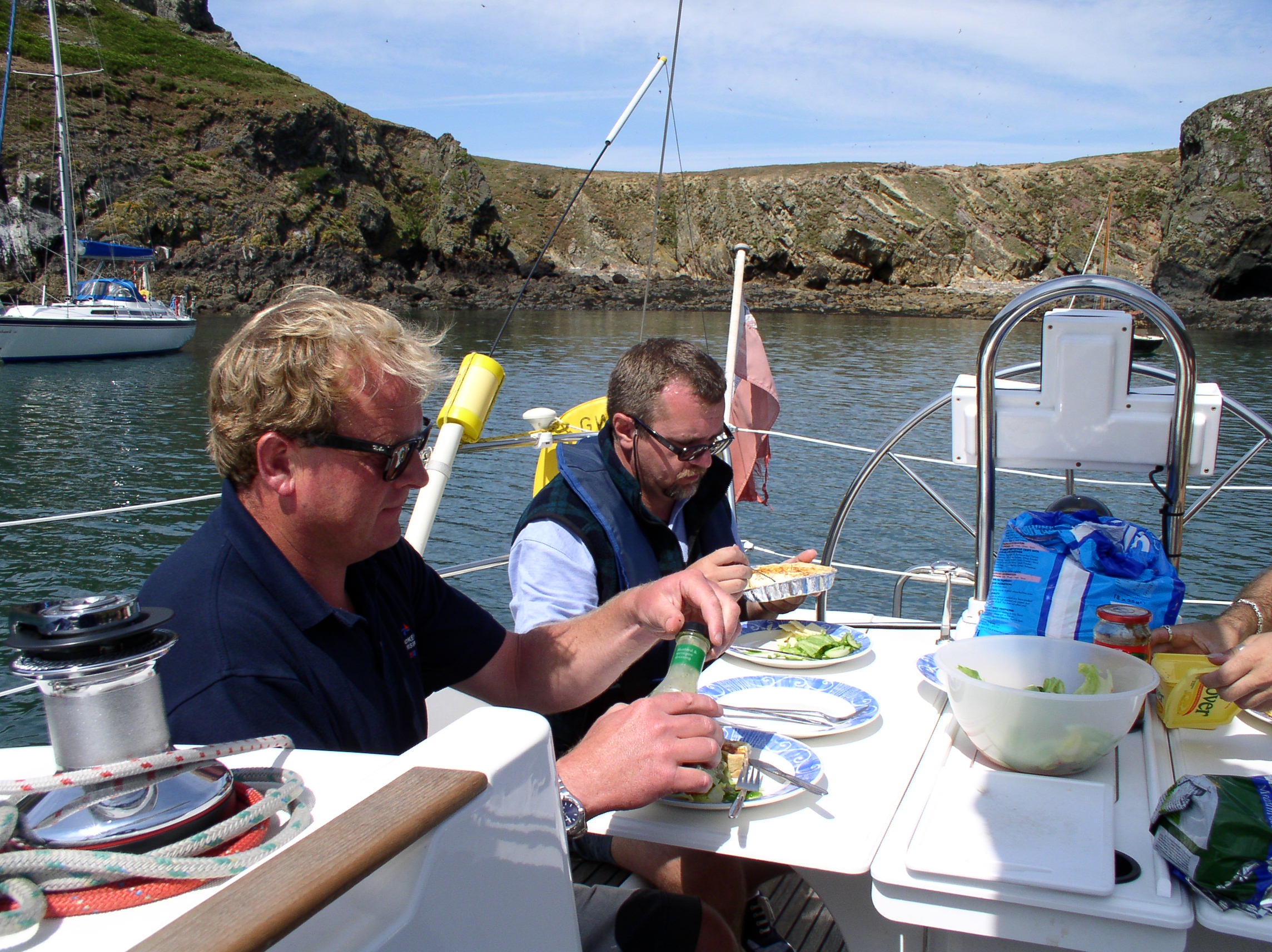 at the quayside hostelry. Its truly amazing how much weight that dinghy will take! The interesting bit was to come later that night with five drunken sailors returning to the yacht in pitch darkness.
On the last night of the course we had to plan and execute a night-time passage from the mouth of the Milford Haven estuary to our base at Neyland. This is no easy task in avoiding large oil tankers and other shipping whilst trying to identify various channel marker buoys through their flashing lights against the backdrop of Milford refinery lights. The last day of the course was spent practising more manoeuvres and man-overboard recovery. Whilst sailing along, Roland would throw a lifebuoy into the sea and yell 'man overboard'. The acting skipper would crash stop the boat by steering through a tack, manoeuvre into position alongside the 'casualty' and delegate a member of crew to pull the lifebuoy aboard using a boathook. All great fun on a calm flat sea, but in reality in rough sea conditions, a man overboard is a very bad situation. Don't ever let it happen. There is no exam at the end of the course, but Roland who is a highly qualified chief instructor makes continuous assessments throughout, and providing you have demonstrated a fair degree of competence, you will be awarded the RYA Day Skipper practical certificate.
In September that same year, 2004, and now suitably qualified, Denise and I felt confident enough to charter a yacht for two weeks without the company of a flotilla or the support of a lead crew. This time, with our eldest son Michael joining us, we chartered a slightly larger 29' yacht and sailed around the South Ionian islands of Lefkas, Ithaca, Kalamos, Cephalonia and Meganisi, covering a distance of some 175 miles. We had many good days but others were fraught with panic!
Memorable times included anchoring for the night in a sheltered bay at Port Leone on Kalamos. In 1953, Port Leone village had been completely destroyed during an earthquake and all that remains is the overgrown stone rubble of the buildings and grazing goats. The village church however was undamaged and islanders from other parts continue to maintain the church in its original condition to this day. That night we saw the Milky Way in all its magnificence for the first time in our lives. Lying on the deck gazing up at the stars on a warm, crystal clear night with no light pollution is something to behold.
The next morning, we witnessed another amazing display. The calm clear water around our boat suddenly exploded into life with thousands of small fish jumping on the surface as the electric blue and gold flashes of a barracuda scythed through the shoals creating mayhem. Just seconds later, the water returned to calm and tranquillity as the barracuda sped off out of the bay and into the open sea.
One of our worst experiences was to follow. We arrived at the jetty on a small uninhabited island and was about to tie up when we got chatting to a Dutch couple who were about to leave the jetty. They told us that the island was infested with rats and that during the previous night they were kept awake by the sound of scurrying feet over the decks of their yacht. They had spent the day clearing up rat droppings. Ugh… horrible. We decided we didn't want that experience so we motored a few hundred yards across the channel to the main island of Ithaca and anchored off a small rocky cove for the night. Big mistake! Conditions were calm when we arrived and we enjoyed some snorkelling during the evening, spotting squid and octopus clinging to the underwater cliff faces. However, during the night, a distant storm brewed out at sea and this eventually resulted in big waves and strong winds lashing our yacht. Sleep was not on the agenda as I had to stay up all night to check that the anchor wasn't dragging. It was very unnerving with waves crashing onto the rocks less than 30 feet away in the darkness. I'm pleased to report that the anchor did hold, but my nerves were shattered.
Despite that nerve shattering experience, we had some wonderful sailing, met lots of interesting people, and enjoyed splendid cuisine at the many tavernas we visited. As we approached various quaysides to tie up, local people and yachties alike would appear and cheerfully take our lines ashore.
Over the Christmas period, we booked our next sailing holiday. This time it would be a flotilla holiday with 'Sunsail' in the windier climate of the North Sporades Islands on a brand spanking new 34' Beneteau yacht. No brochures existed for this new yacht so Michael and I went to the London Boat Show in January 2005 to see the show model for ourselves. Blimey, she was big!! Would we be able to handle this beauty? Anyway,
as our holiday in June approached, Sunsail contacted us to say that the Beneteau would not be commissioned in time for the holiday and, as compensation, offered us a slightly older, but even larger 37' Jeanneau instead. Phew!
We boarded our yacht 'Pelistry' in June at the Sunsail base, Melina, in the Bay of Volos. What luxury! Three spacious cabins and saloon finished in rich teak wood. Gleaming galley and heads, wheel steering instead of tiller, autopilot, and best of all, an electric anchor windlass. No more back strain hauling up the anchor now. How could we ever go back to the old Jags after this?
Over the next two weeks we sailed out of the Bay of Volos, up to the Sporades Islands of Skiathos, Skopelos and Alonnisos, and back again, more or less following the same route in return, covering a distance of 215 miles. This area was quite a bit windier than the Ionian sea and gave us some really exciting sailing.
One of our favourite spots was the town of Skopelos on the Island of the same name, with it's chic promenade and open air shady tavernas overlooking the ferry dock. During our free sailing period (3 days) we decided to return to Skopelos one late afternoon and moor in a quiet area of the harbour to give us plenty of room to manoeuvre. That evening literally hundreds of sailing boats, all shapes and sizes, came into the harbour tying up all around us, three or four abreast. We discovered the Sporades Regatta had come to town with the ensuing carnival atmosphere, Greek music and dancing. I awoke at 5am the next morning to the busy, but quiet, hubbub of the regatta leaving. Within 20 minutes, they had all gone, and Denise slept through it all.
One day, whilst snorkelling off a remote rocky beach, I spotted what appeared to be a large conch shell. Diving down, I brought it to the surface to realise it was not a conch but a large sea snail still alive inside the shell. It was the largest snail I had ever seen and I had visions of sharing an enormous barbequed escargot with the rest of the flotilla that evening. However, Denise and Michael, who have great empathy with saving the planet, were having none of this, so I had to forego the prospects of that gastronomic delight. We placed it in a bucket of sea water just to show it off to the rest of the flotilla later that evening. Because it was almost the size of a football, one lady nick-named it Wilson from the Tom Hanks movie 'Castaway'.
The following day, we returned to where we found him and lowered Wilson onto the rocks in 15 feet of water.
Back in the UK, Denise completed the 'Day Skipper' theory course at Worcester Tech over the winter and has just signed up with Pembrokeshire Cruising to do the practical course. We have booked our next holiday, sailing around the Kornati Islands of Croatia in a 32' Bavaria, and I look forward to Denise skippering the yacht whilst I snooze with a cool lager under the bimini, shaded from the hot Croatian sun…just joking….but watch this space.
This article is freely available for media publication, but please advise the author on the above link if the article is used.

This work is licensed under a Creative Commons Attribution-ShareAlike 2.0 England & Wales License.